The morning started out as a challenge: Rainy, raw cold and windy. By noon the rain had stopped, but Saturday's welcomed taste of 70s spring weather was but a brief tease — attending the rally required bundling up. Those who showed up must have read American Revolution pamphleteer Thomas Paine's words:
"These are the times that try men's souls: The summer soldier and the sunshine patriot will, in this crisis, shrink from the service of his country; but he that stands by it now, deserves the love and thanks of man and woman."
No "summer soldiers" or "sunshine patriots" these folks!
The only media report found,
and only in The Boston Globe's print edition.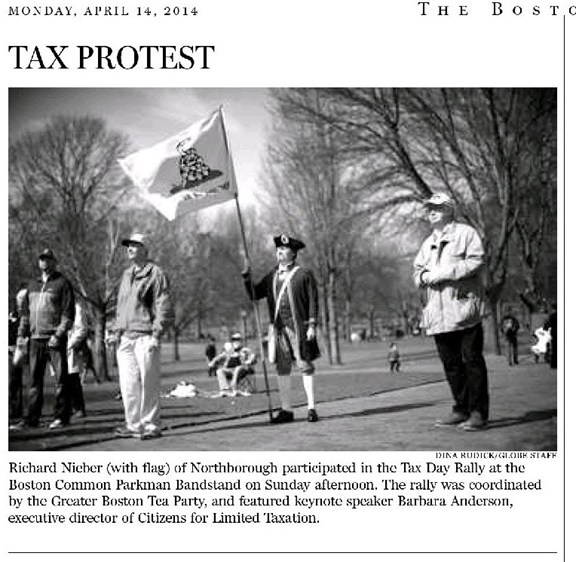 CLICK ABOVE TO ENLARGE
Just before Barbara gave her keynote speech
the sun broke through the gray clouds.
CLICK THE IMAGE TO WATCH THE VIDEO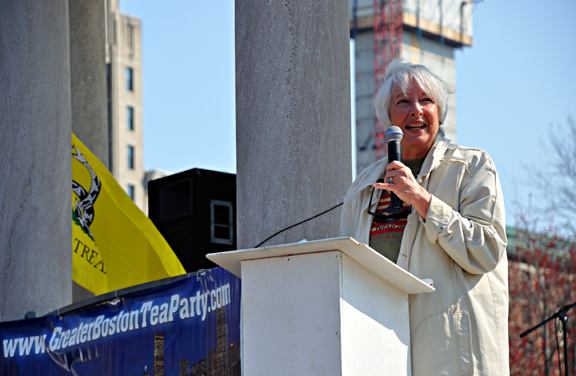 OF BARBARA'S KEYNOTE ADDRESS

CLICK IMAGE BELOW FOR COMPLETE RALLY VIDEO
It was good to see so many old friends and activists all gathered to show support for the theme of this year's Tea Party rally:
"If you like your freedom you can keep your freedom — if you fight for it!"